It was almost 20 years ago that I came up with the idea to abuse my position as a published journalist to score free food, drink and accommodation. That was Bartripping, a monthly column designed to achieve corporate-subsidised drunkedness. It was fun while it lasted. In the media we'd refer to these perks as 'junkets'.
I am no longer a published journalist, other than in these humble pages, but my hunger for free hospitality remains as strong as ever. This blog hasn't gone viral, yet, and we don't get invitations to restaurants or bars, you know, like we deserve. Luckily I married a woman whose secret superpower is to organise free or very-low cost luxury. So it was that we find ourselves waltzing into Madi Paidi, Marriott Group's newest addition to the Autograph collection, on opening night.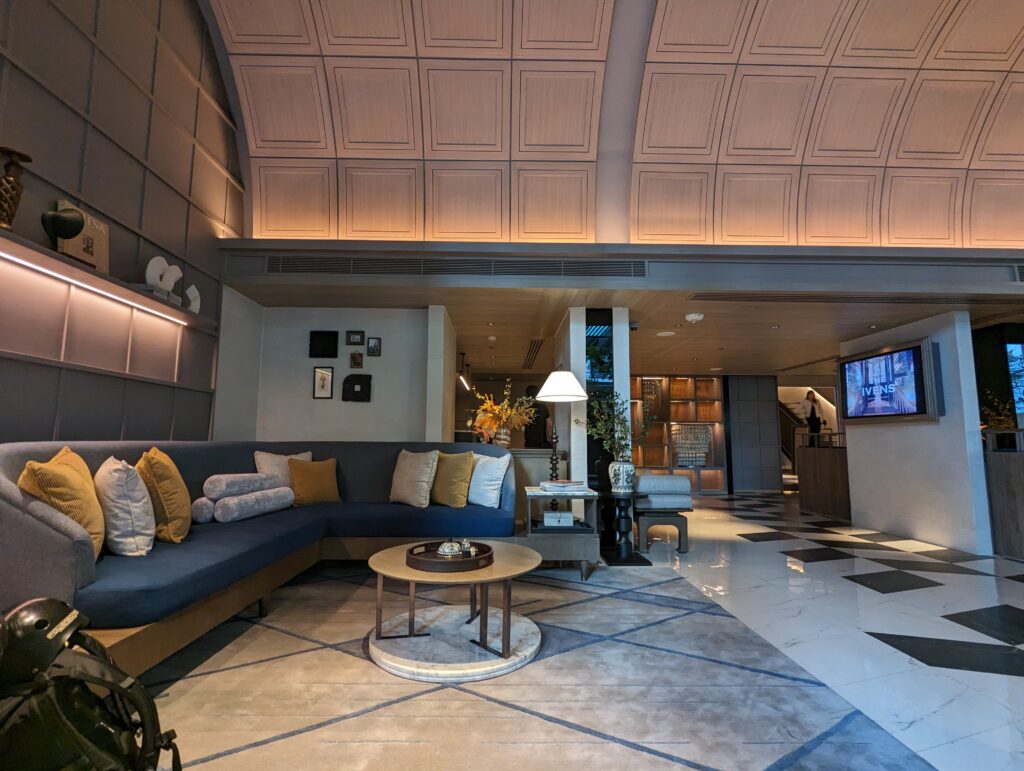 The Autograph hotels are marketed as boutique, intimate and very cool. Mrs Sachie got our Friday night stay cheap on points. When I say boutique what I mean is that you hang out in the lounge for check-in rather than queue up at the counter listening to people argue about the security deposit. There are black and white photos on the walls, old books on the shelves and a lovely old Konica rangefinder camera to play with while you sip the welcome drink.
Let's check out the room. We are on the third of nine floors.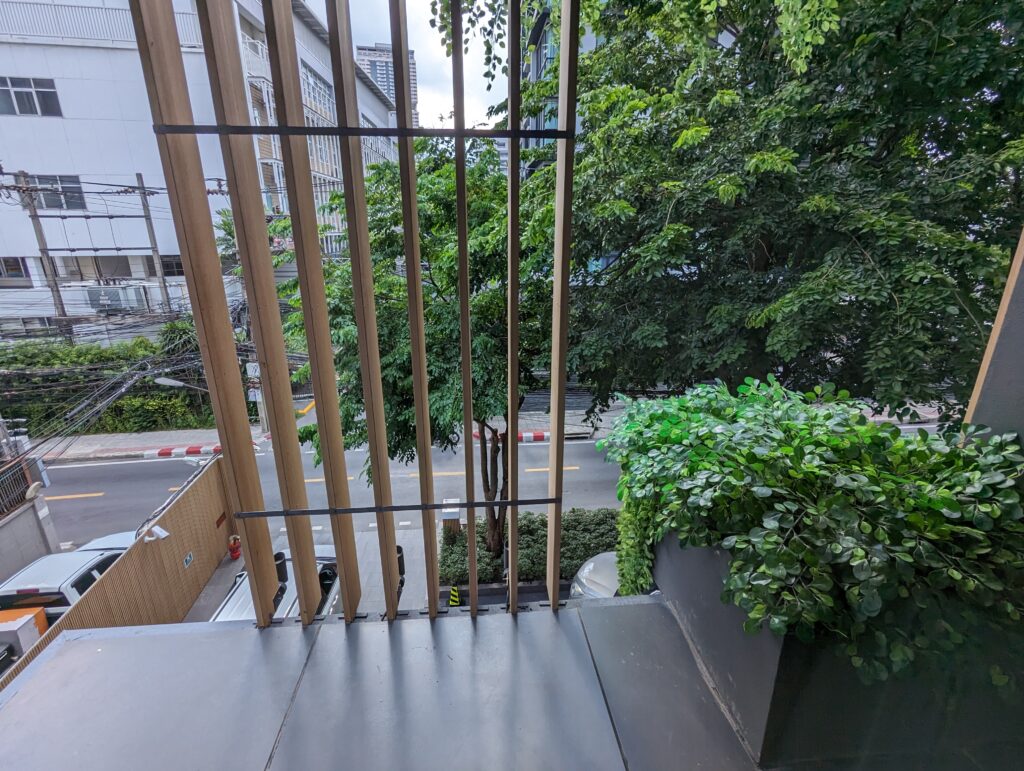 It's not a big room and there's a tasteful structural pillar in one corner, which is weird. I was pleased that, for a new hotel, it didn't have big glass wall to the bathroom, so you don't have to wake up to your wife's evacuations first thing in the morning.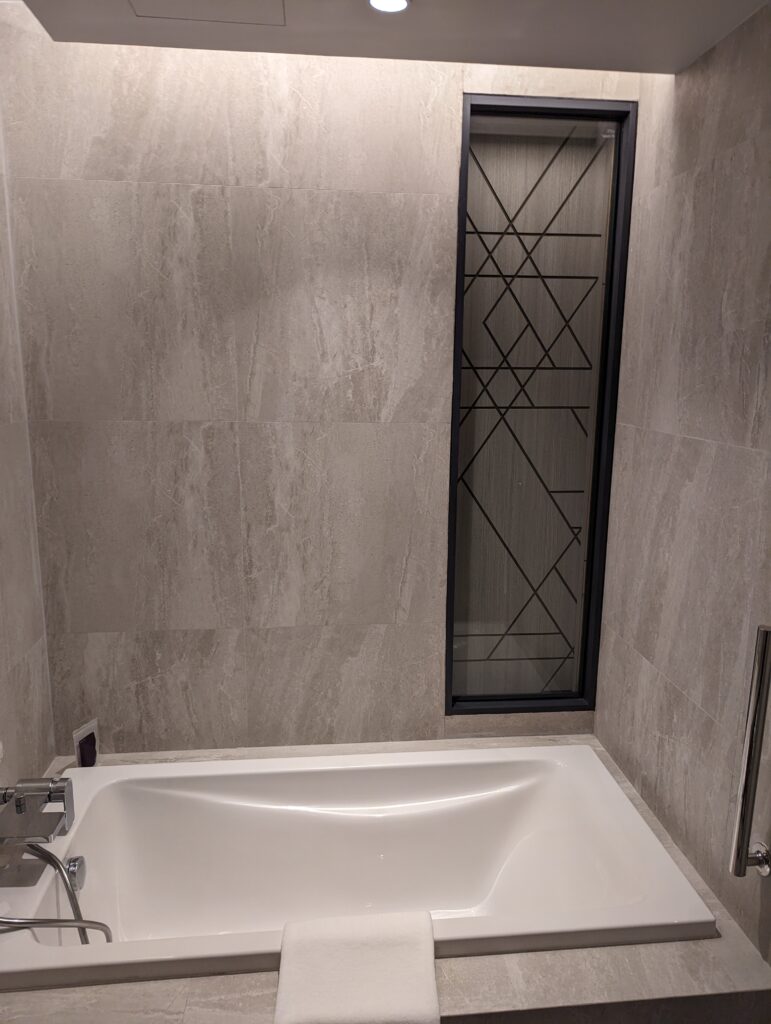 Uh Oh! Looks like I spoke too soon.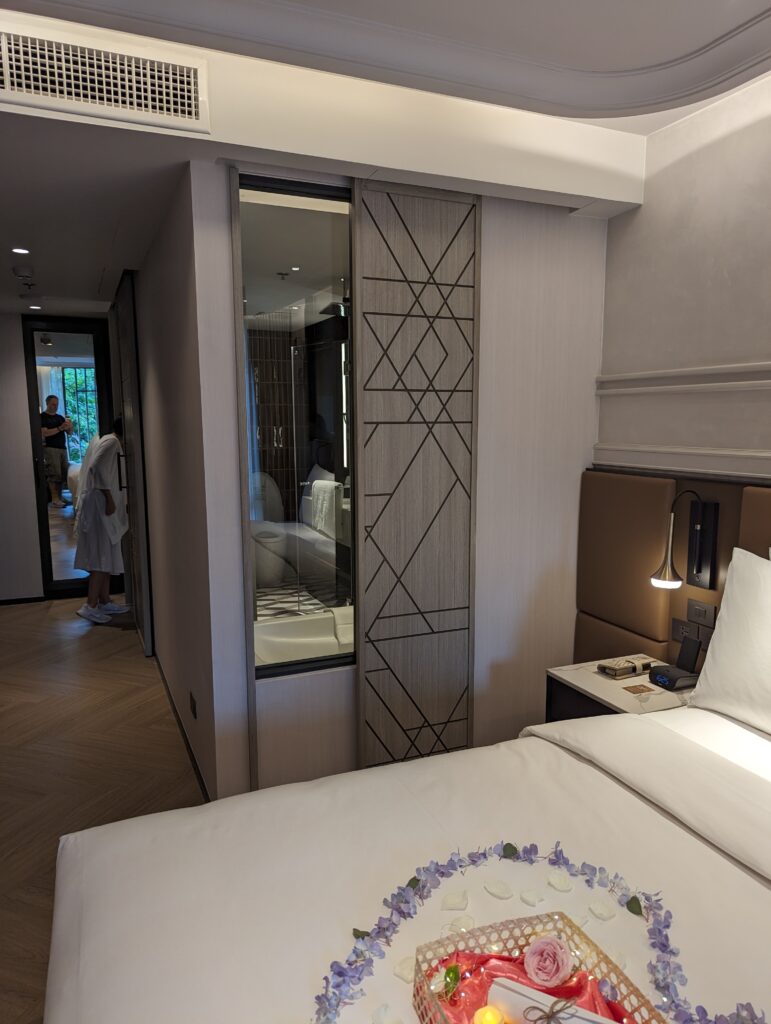 Looks like there is a window to the bog. It's a nice Japanese one (the bog) and very hi-tech. The lid flips up when you walk in and it cleans itself to a melody of beeps and boops. It also comes with a remote. Perhaps that's why the window is there, so you can open the lid and spray your girlfriend wife with the bidet function while she's brushing her teeth in the morning. You'll see that they put some decorations on the bed for our anniversary, which is nice, but we'd only been married three weeks. That's Mrs Sachie's cunning work, they gave us a cake too. Speaking of presents…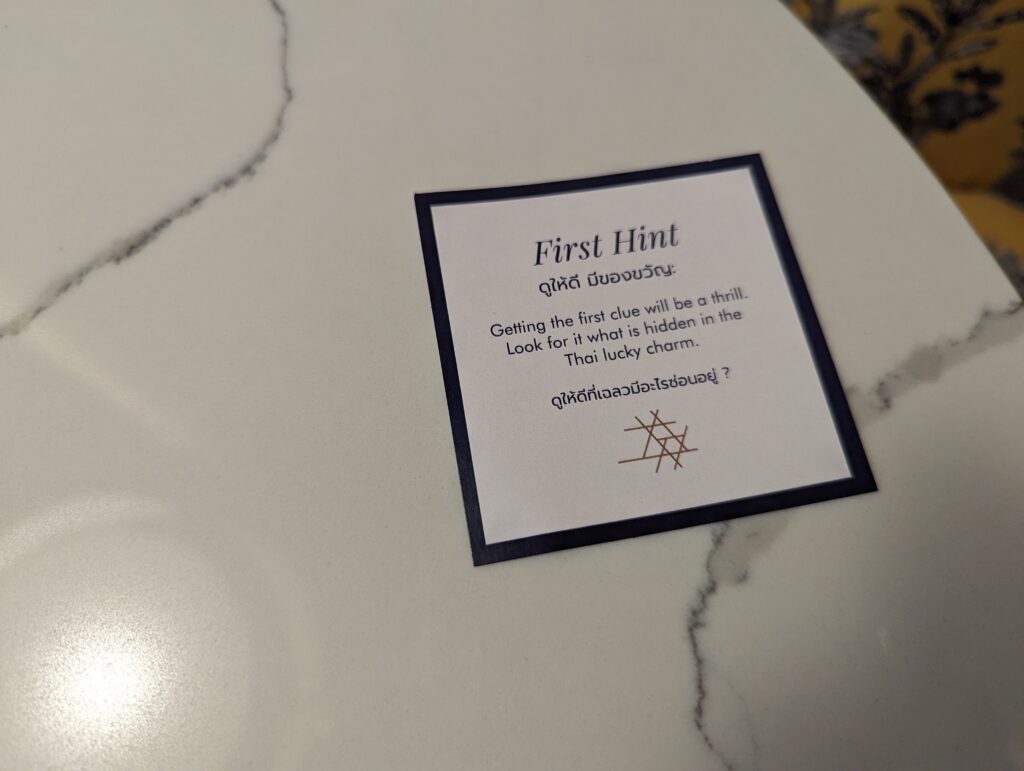 The way this works is that you use this clue to find the next clue, until you find the present. We failed at the first hurdle and tore the room apart looking for the lucky charm. I was ready to cut the mattress open before they told us they'd forgotten to hide the rest of the hints. The gift was a nice box, a pair of elephant pants, a traditional Thai aluminium cup and a hand-fan. We now use the box to store documents.
I want to say something about a newly-opened hotel. Firstly, there's none of this shit: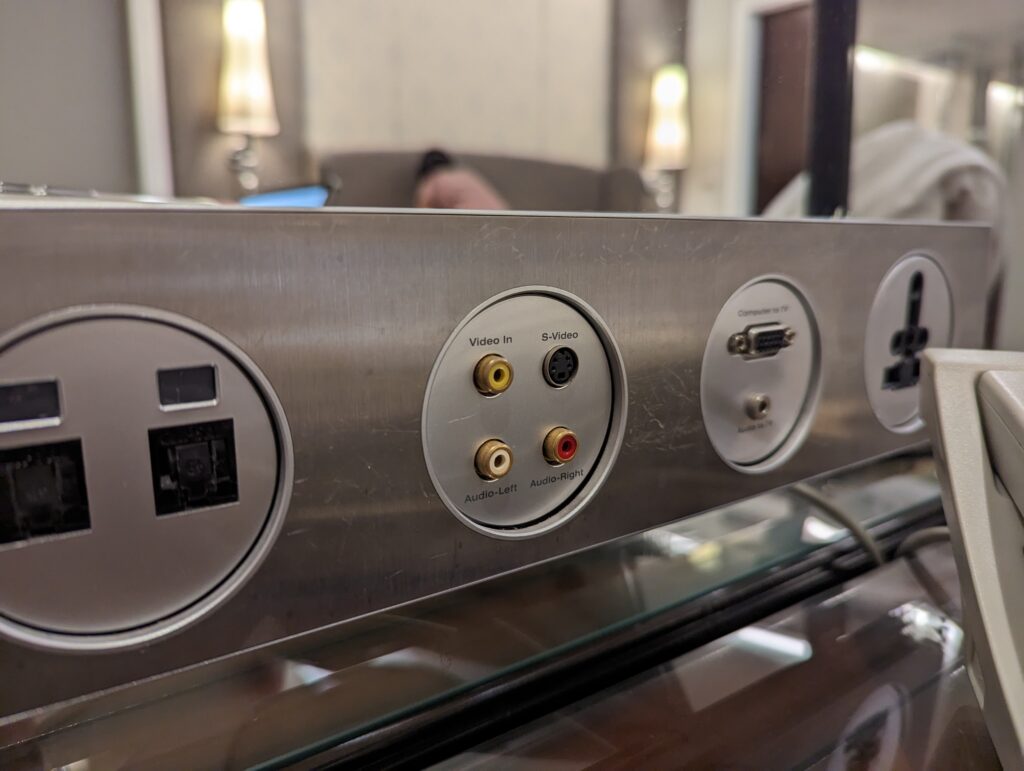 Now, that photo was taken in the St Regis in Bangkok, which is super-fancy and way out of your budget. I see, from left to right, a LAN port, another LAN port (in case your wife also brought her Toshiba or Sharp laptop), a collection of composite-video ports(!) an s-video port, in case you brought your laptop from the late 90s, a VGA port an audio-in 3.5mm jack and a universal power point. HDMI came out in 2002. The photograph above was taken in 2023.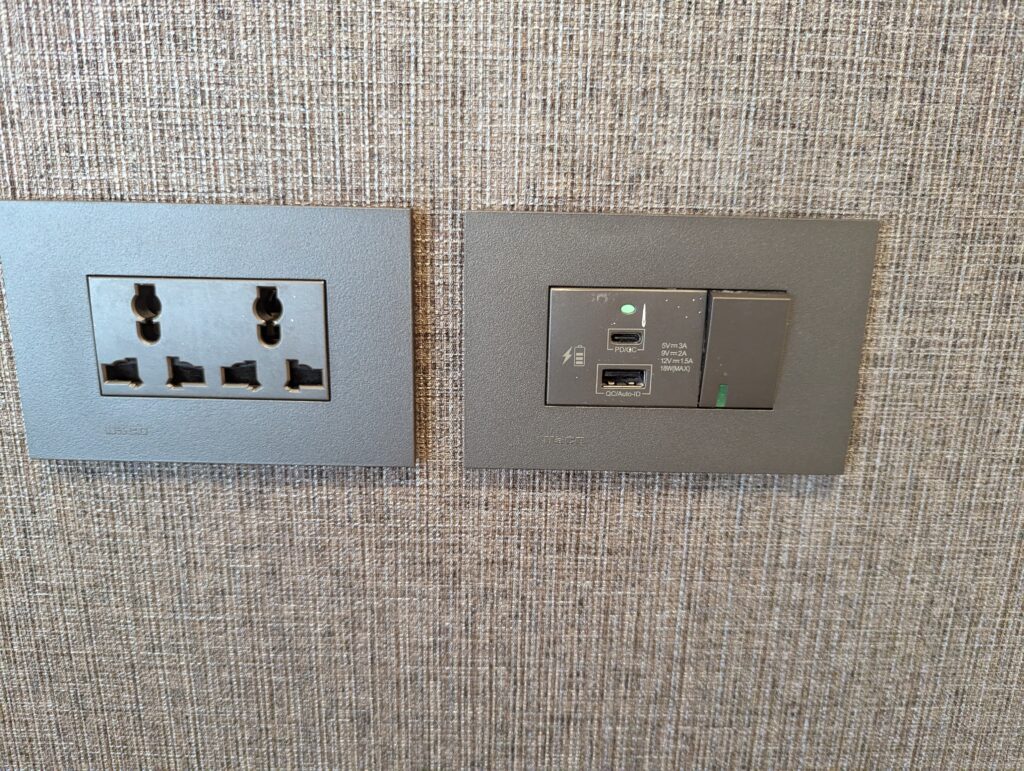 Speaking of 2023, our room has a USB type-C charging port. It also appears to be fast-charge. It may connect to the TV but I think you do that wirelessly now. I also appreciated this: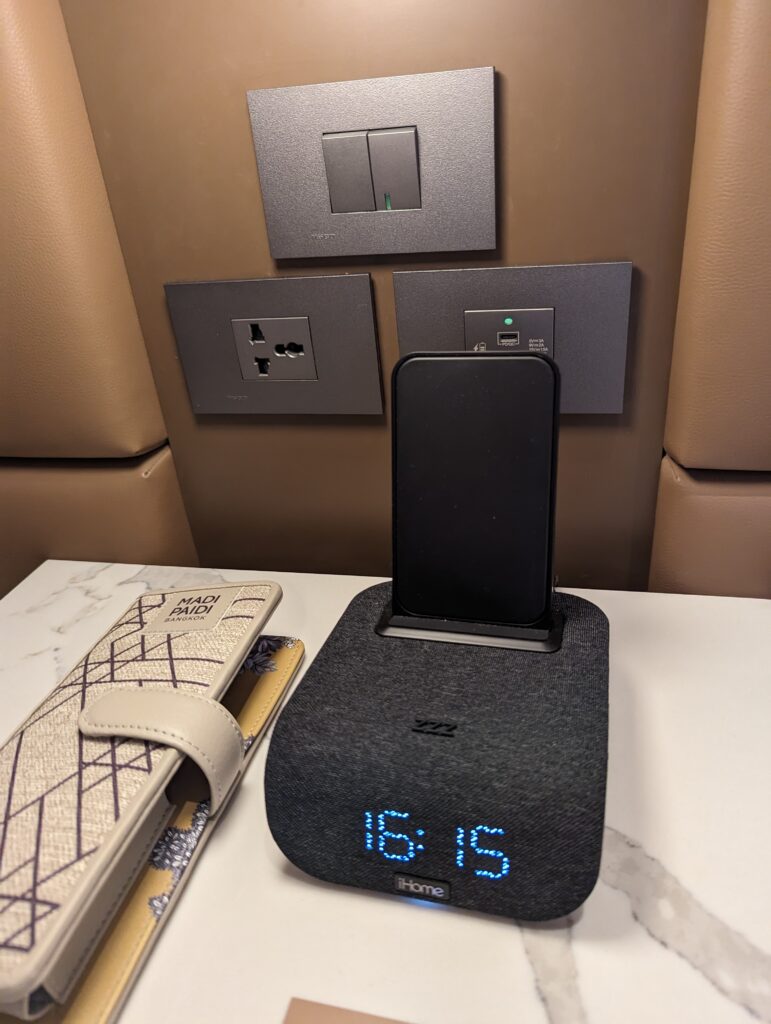 We have stayed at so many hotels where the clock-radio has a support and plug for a OG port iPhone or iPad. This one has wireless charging and bluetooth. Hello 21C.
That's the room. It's 4:15 in the afternoon so it's time to go to the bar. They gave us three bar tickets and three food tickets when we arrived. Each, good work Sachie. I will say that they've done a bloody good job on the bar. It's small but well equipped and is staffed by two talented mixologists — mine was Tan so tip him if you see him.
We started off with two glasses of cava, then some pinot but for last drinks we were after something a little stronger.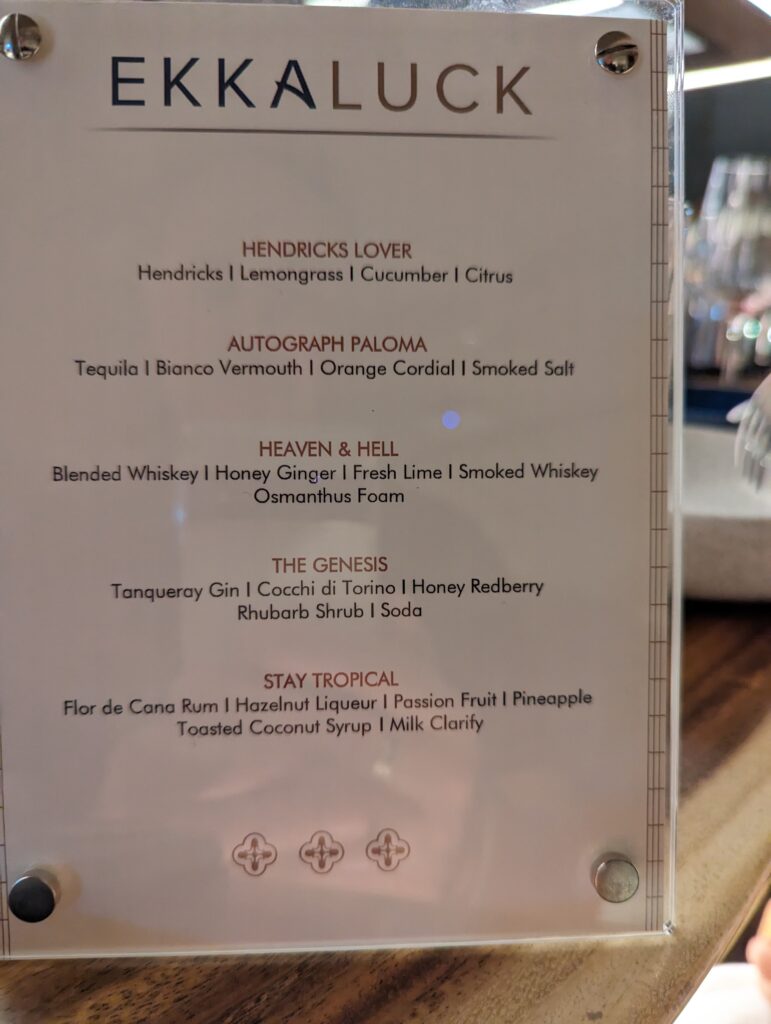 It is so very very rare that one finds a nice cocktail these days, especially if you don't pay for them, but we got both. Mrs Sachie's Stay Tropical, a Pina Colada sans coconut milk but made up for with hazelnut liquor was so good I wouldn't let her finish it. My Autograph Palmoa tasted like cordial but had me sliding off the barstool. I really can't recommend these enough, although I notice they don't post prices.
I think I have written quite enough for a one-night stay but I will say that the breakfast was quite nice and Mrs Sachie managed to finish a bottle of sparkling rosé before 10am. She booked the room for 7500 Bonvoy points (a trifling sum) and given that she got Bt1000 for photographing the place for a dodgy Japanese website, I'd call that a win.