Greetings Earthlings, it's been some time since I posted a wine review but the mood has stirred me and it's time for an update. Tonight we experience another rosé, this time from Italian brand Martini. No, gentle reader, it's not made of gin or vodka, but it is from the same company that makes the vermouth.
Being Italian you would assume that this is a Prosecco, but there is no mention of that on the label, which would lead one to assume that it is produced outside the Trieste region, or its surrounds, so it falls under the generic sparkling wine label.
As you can see from the packaging, Martini goes in for bold branding and subscribes to neither the traditional "drawing of an old house" label or the more modern "birds, bicycle or bust" branding that our more contemporary vineyards are fond of. I have no inside knowledge but I'd guess that the marketing team want to place this in the mid-market, predictable taste, global appeal bracket. Miss Sachie bought this bottle duty-free in Bangkok for around Bt750 which makes is a bit expensive for a daily drinker and far out of our range if bought under the punitive Thai taxation system.
Now let's get to an occasion suitable for this one. Due to it's vulgar branding I'd say that it's a great one to take to a party but don't bring it for the first meeting with your girlfriend's parents — they will immediately peg you as the heathen you are. Being a rosé, the perfect presentation is ice-cold, on a sunny day, on an expensive motor yacht. In our case, it was on sushi day.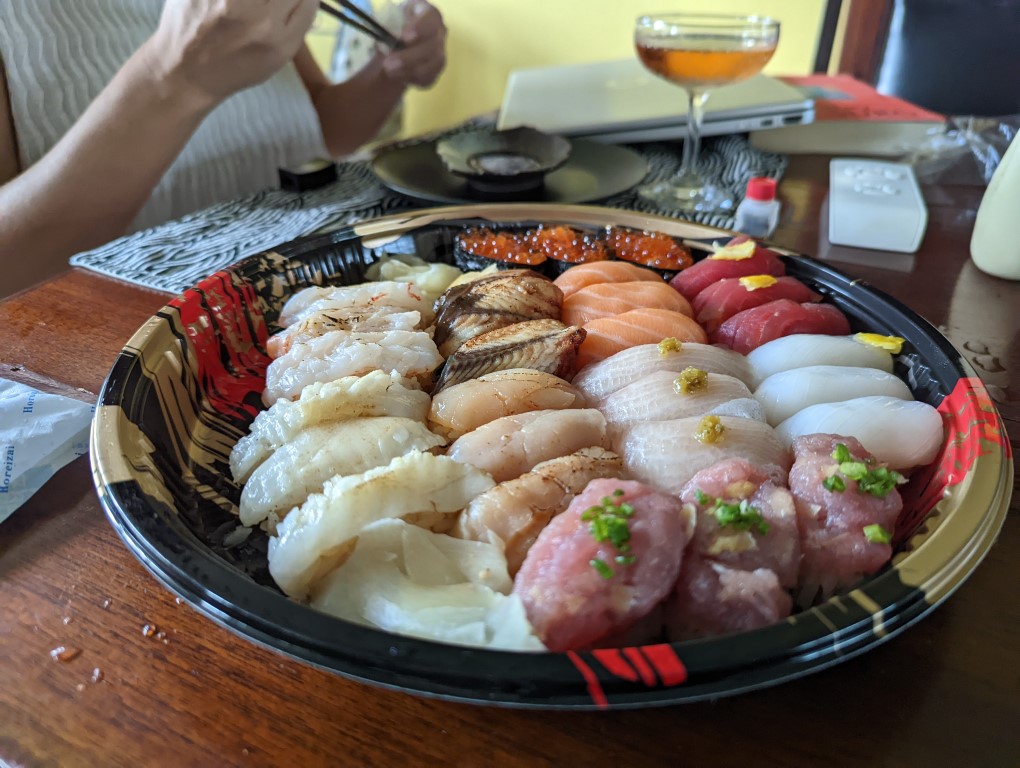 It's said that the reason rosés are so popular simply because they look good on Instagram. Being a crotchety old man, that's what I think too. How is the colour on this one?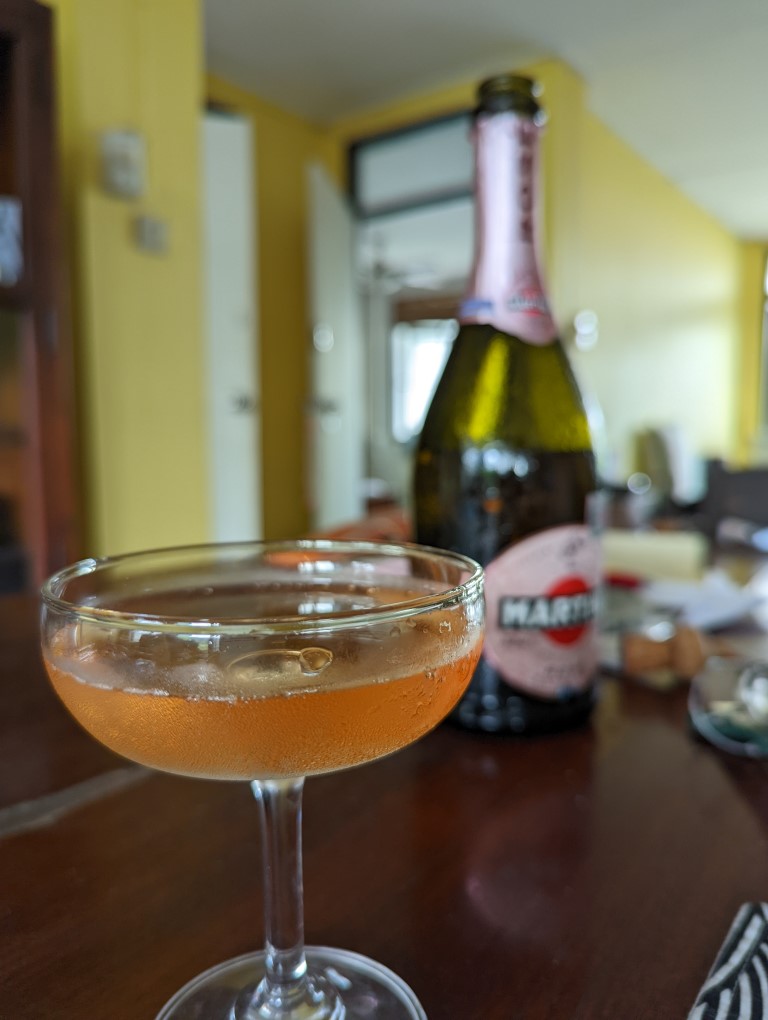 Not exactly the pink bubbly that we are used to and I would call it a little amber. Proper rosé is made the same way as red but whipping the skins out before it becomes too red, but back when I was a lad they'd just mix red and white, carbonate it and call it good. I don't think you can get away with that these days, but Martini is definitely blending for consistency (then again, most do). Martini's also isn't method traditionale, so no old Italian ladies did in their wrists riddling these bottles, instead enormous machines perform final fermentation in order to satisfy global demand.
Either way, pink bubblies have come a long way in the last two decades and I really can't complain about this one. It has a nice fizz, it's not too sweet and not so dry as to offend. On the whole, a robust fruity sparkling that puts one in the mind of strawberries.
So what does Bt750 (duty-free) buy in the taste and mouth-feel department? The bottle opened with a satisfying pop, which is nice for us as we've had more than our fair share of duds over the last couple of years. I've had dryer bruts but it's not so bad. Let's remember who's buying this, people who want easy choices, so it's largely inoffensive and an easy drink. Not too much fizz, not too sweet. It gets a 3.7 on Vinno, which puts it in respectable, if crowded territory.
So can I recommend this bottle for a buy? Sure! Martini make good and consistent sparkling wine and slide down the gullet without effort. However, are you going to impress when presenting as a gift? Probably not. The proles will be confused by the brand name and those in the know will wonder why you didn't spend the money on one with a, oh I don't know, butcher's apron or a clocktower on the label. No, keep this one in the family and enjoy it with your partner, close friend or others who already know you for a fool.